Events & Travel
The Life You Want Weekend Day 1: An Evening with Oprah
By
|
This weekend, thanks to a twist of fate and my sister friend Christine, I had the extreme pleasure of attending Oprah's 'The Life You Want Weekend'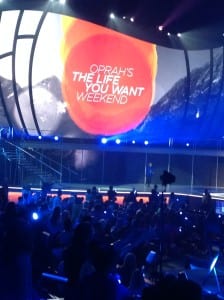 here in DC. And if you've been living under a rock and haven't hearad about it yet, here's a little background on the event:
"Harpo Studios, O, The Oprah Magazine, OWN: Oprah Winfrey Network and WME Live have joined together for this unprecedented eight–city arena tour and transformational weekend featuring Oprah Winfrey and a team of special guests, sponsored by Olay and Toyota. On Friday night, Oprah will take the stage, bringing her personal story and insights to life in a one of a kind intimate evening. Then on Saturday, Oprah will lead a day–long gathering of thousands with handpicked thought leaders and pop culture icons including Iyanla Vanzant, star of OWN's hit series "Iyanla Fix My Life," best–selling author of Eat Pray Love, Elizabeth Gilbert; and one of Time 100's Most Influential people, Pastor Rob Bell. Additionally, author Mark Nepo will take the stage. Also on Saturday, paralympian and "Dancing With the Stars" finalist Amy Purdy will join Oprah onstage for Toyota's "Standing O–Vation," which will recognize extraordinary people in communities around the country."
I've got to be honest. I didn't really know what to expect since this event wasn't really on my radar until some folks in my circle started buzzing about it; even then, after I looked at the prices, I was all: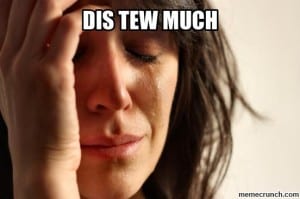 Before the event, attendees are encouraged to download the Life You Want App and use it to explore all kinds of fun goodies like info about O Town (more on that in a minute), a photo booth, social sharing and free tour gifts.
#DanceParty
Friday night was AH-MAZING. Seriously. I could have missed Saturday and I still would have been floating on cloud 9. Oprah and her team really know how to put an event together honey.
After we checked in and got our super high tech O Tour wristbands, our first stop was O Town, a pop up town square featuring entertainment, makeovers, and a host of sponsors including Olay, Toyota, Tide and CoverGirl.
After O Town, DJ KISS got the party started in the main event area. She spun some old school jams that got everybody out of their seats. In addition to being dope on the wheels of steel, DJ KISS was also fly. Her outfits were definitely #StyleMedicApproved
Click the button to get the rest of the deets over at Moms n Charge
Comments
Facebook Comments